A TALE OF TWO CITIES: A MODERN DAY CORRESPONDENCE BETWEEN CREATIVE GROWTH ART CENTER AND UNITED CEREBRAL PALSY, LA
Aug - Sept 2016, Washington Reid Gallery, Culver City, CA
Curatorial and Project Statement
Project Space @ Washington Reid Gallery @ UCPLA
6110 W. Washington Blvd.
Culver City, CA, 923
August 20 – September 29, 2016
A Tale of Two Cities
Last winter, Veronica De Jesus, the Artistic Director at United Cerebral Palsy Los Angeles, UCPLA, invited me to curate a project here. The following spring, together with the art staff, Veronica De Jesus and Aragna Ker, we used the opportunity to create dialogue between artists from disparate art centers in California. For this first iteration, 12 artists from Creative Growth Art Center in Oakland CA, where I had recently left after two years as the ceramics instructor, and nearly the complete group of artists at UCPLA, engaged in 4, 3-hour work sessions. During these sessions they collaborated on drawings depicting their respective cities and interests. The drawings were faxed back and forth and worked on by both groups simultaneously. We used Google Chat as a medium for live collaboration and communication.
The artists were able to make deep connections with one another through both their art practices and live dialogue. They had friends in common, similar (and dissimilar) interests and were all excited to dive deeper with each coming interaction. The spontaneity and fluidity of this collaboration contrasted with ways in which many of them ordinarily work, side by side but on their own respective projects. Overall, I think the artists would agree, the project was a success and they cannot wait to reunite with their new colleague, be it through digital or analog form!
Thank you for coming!
Cara, Veronica and Aragna
On Saturday, August 20, resident artists at the UCPLA Washington Reid Gallery welcomed friends, family, staff and the art community in and around the Culver City Arts District to the opening reception for "Tale of Two Cities". The gallery's newest exhibit commemorates a month-long collaboration between UCPLA's resident artists and their counterparts at Creative Growth Art Center, Oakland. Conducted via fax, paper mail and Google Chat, this collaboration challenged artists to engage in a dialog about their respective cities while working long-distance on joint projects. Pieces were faxed and mailed between the two art programs, with artists on each side making additions, refinements and comments that eventually yielded the pieces currently on display. "Tale of Two Cities" captures all of the pieces of this unique collaboration and will be on display at the UCPLA Washington Reid Gallery through September 29.
Opening Reception Washington Reid Gallery
Guests at the opening reception for "Tale of Two Cities" got the chance to admire not only the finished products of this state-long art exchange, but also the means of correspondence, including envelopes, faxes and more.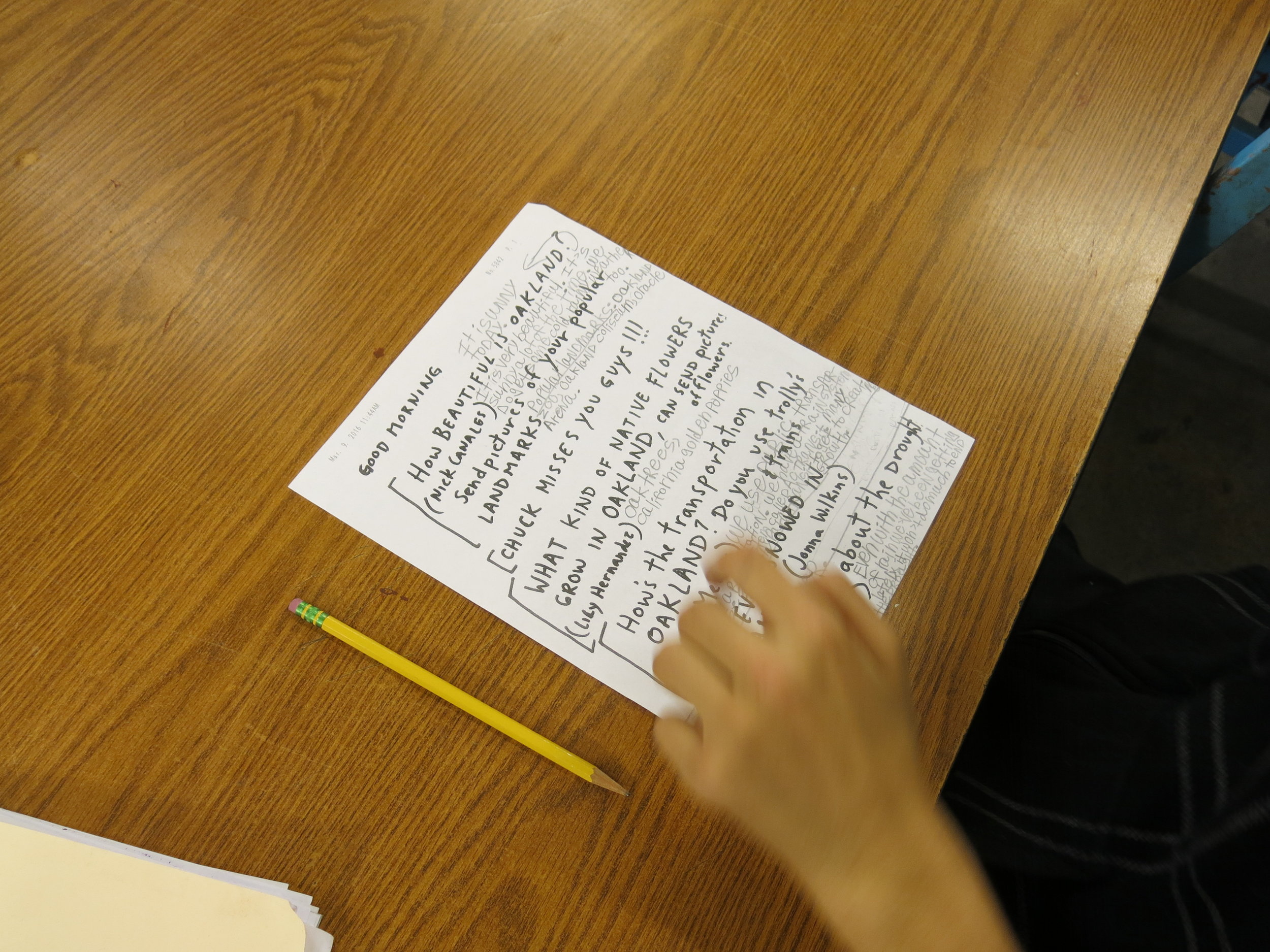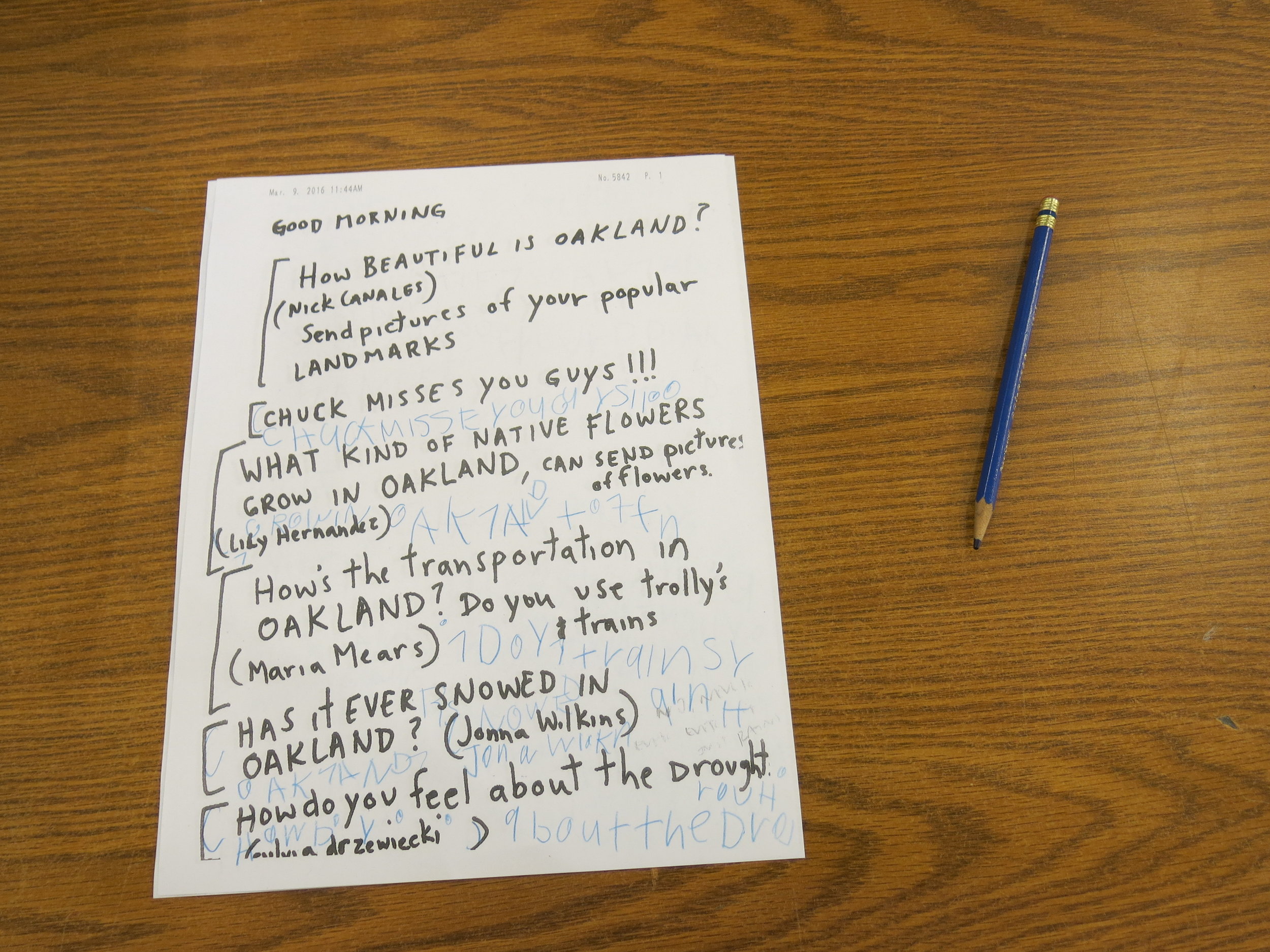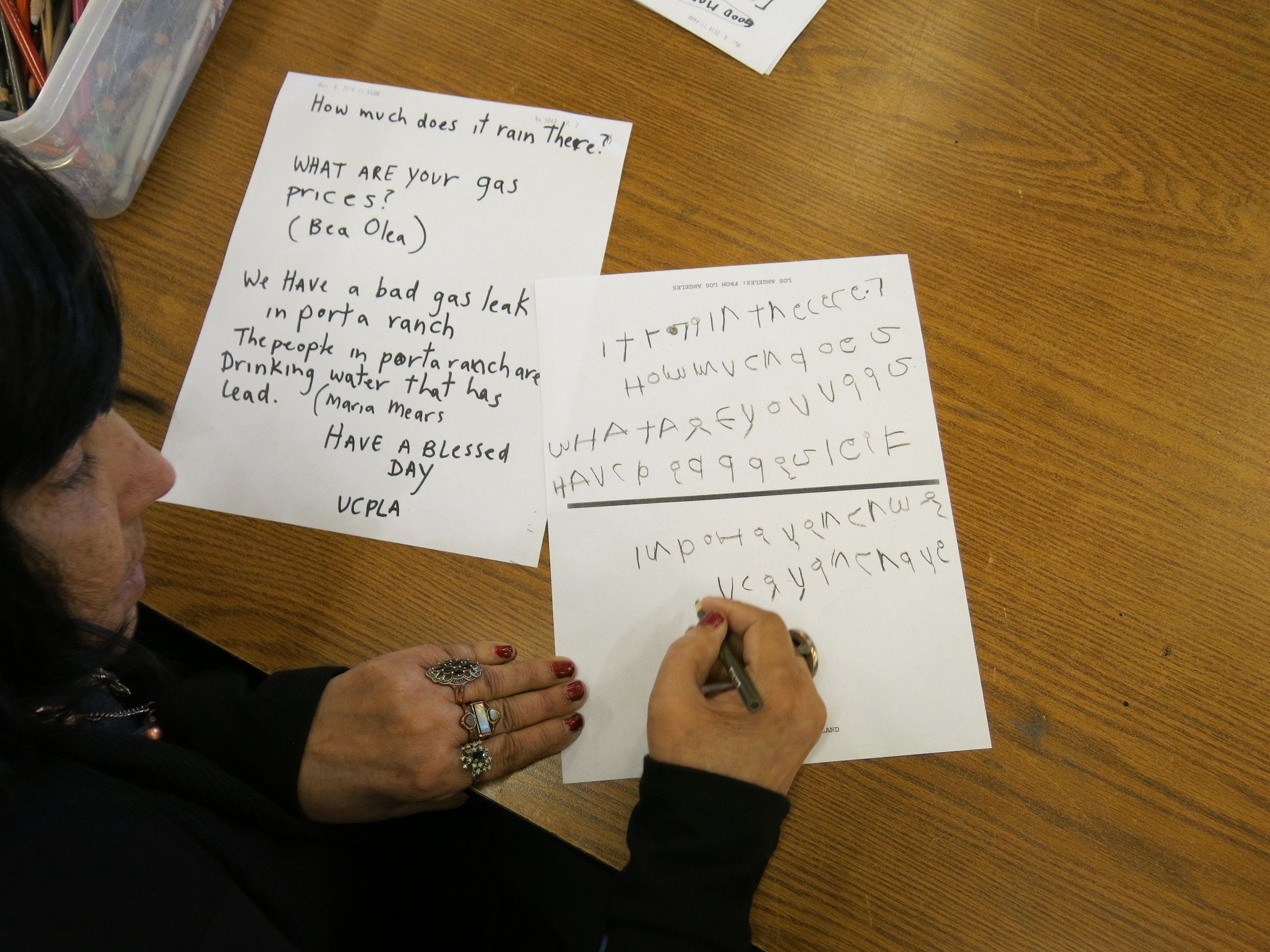 Process images @ Creative Growth and @ UCPLA